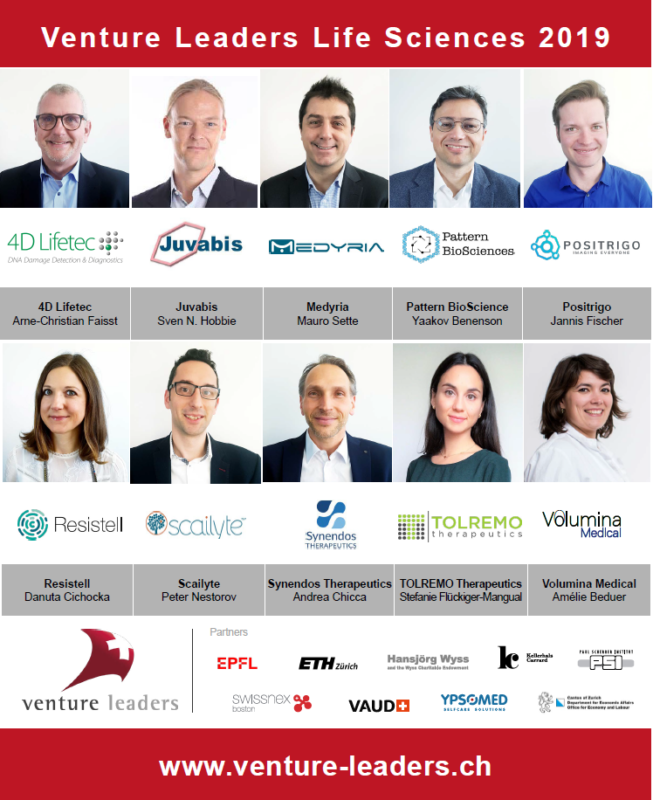 For the past 18 years, Swiss National Startup Teams have traveled to Boston, New York, Beijing, Shanghai, Shenzhen or Hong Kong to dive into the exciting entrepreneurial scene of such high level entrepreneurial hubs, helping more than 300 entrepreneurs to build their vision and achieve success. Several of them belong to the best Swiss startups today, such as Ava, Abionic, Amal Therapeutics, Biognosys, Covagen, Lunaphore, InSphero, Virtamed and many more.
Ten new startups have been selected for Venture Leaders Life Sciences 2019. Chosen from among the most-promising life sciences startups in Switzerland, the team will embark on a packed, week-long roadshow in Boston. 
Following in the footsteps of startups such as Insphero, Covagen and AMAL Therapeutics, the new Venture Leaders Life Sciences team will showcase the best of Switzerland's biotech and medtech startups in Lausanne, in April, and in Boston, in June. The Boston-region is one of world's major life sciences hubs and the ideal springboard for ambitious startups on their way to global expansion.
The entrepreneurs, who constitute the 26th edition of Venturelab's global roadshows for the Swiss National Startup Team, will have an intense pitching to key U.S.-investors, and meeting leaders and experts the biotech and medtech industries.
Ground-breaking technologies, drug resistance as a key topic in 2019
The winning startups, selected by a jury of investors and experts from 60 applicants, have developed ground-breaking technologies in diverse fields. The ten offer more-precise diagnosis, better treatments for cancers, tools for safer surgery, and new ways to repair the physical and mental scars that linger after accidents or surgery. Notable this year is the presence of three startups with novel approaches to tackling drug-resistance in infectious bacteria and complex cancers.
"I am extremely pleased with the 2019 selection. It's again an amazing display of top-level science and entrepreneurs, and I am confident that our U.S. partners will appreciate once again the quality of the team," said Jordi Montserrat, managing partner of Venturelab. "It also comprises three female founders and CEOs, which confirms the trend of the previous years in having more women not only joining startups, but also taking the leading role."
Venture Leaders Life Sciences was a "unique program to put my business development on the front burner. I returned with a ton of great contacts and a much clearer vision on how to run my company and understanding of the U.S.-market. A must have if your ambition is to build a winning business," said Jan Lichtenberg, chief executive and co-founder of InSphero AG, which has raised more than $35 million for its platform boosting drug-discovery.
Venture Leaders Life Sciences 2019 is organized by Venturelab, and supported by: EPF Lausanne, ETH Zurich, EY Entrepreneur of the Year, Hansjörg Wyss, Kanton Zürich, Kellerhals Carrard, Paul Scherrer Institute, swissnex Boston, Canton de Vaud, and Ypsomed.
Venture Leaders Life Sciences 2019
Ten startups have been chosen by a jury of investors as the Swiss National Startup Team for Venture Leaders Life Sciences 2019 from over 60 applicants. The designated entrepreneurs will fly to Boston for a one week roadshow in June to accelerate their expansion into the US market and build an exceptional business network through meeting top notch investors and industry leaders in the US, proudly showcasing Switzerland as a deep tech nation. 
Unreliable tumor detection leads to unspecific therapy. 4D Lifetec is developing a fast, cost-effective and more precise assay to help identify lung and prostate cancers earlier. The company's liquid biopsy assay device is currently undergoing clinical testing.
Drug-resistant bacteria are a threat to modern medicine. Juvabis, a joint startup of the ETH and University of Zurich, is preparing its new, small-molecule antibiotic for clinical trials in humans this year.
 
Aneurysm repairs prevent bloated blood vessels from bursting dangerously. These vital interventions have harmful side-effects. Medyria's sensor uses blood flow velocity to measure a catheter's location, helping reduce the risk of spinal injuries during surgery.
Pattern BioSciences AG | Yaakov Benenson | patternbio.com | ETH Zurich
Developing sophisticated drugs to increase the chance of effective cancer treatment by targeting combinations of molecules, instead of single molecules. The company's lead candidate to treat liver cancer is in pre-clinical development.
Alzheimer's affects 50 million people worldwide. PET scanners can reveal proteins linked to the disease 20 years before the cognitive effects are noticeable. Positrigo's scanner will reduce the cost tenfold, making precautionary scanning viable.
Developed a diagnostic device to identify the best antibiotic to treat a particular infection between 10- and 100-times faster. This reduces the cost of hospital infections and slows antibiotic resistance, by helping treat infection with the correct antibiotic first time.
Scailyte AG | Peter Nestorov | scailyte.com | University of Basel
Single-cell analysis is tipped to become a key tool in biomedical research. Currently the industry can't extract all the data from highly complex single-cells. Scailyte is developing AI-based data analytics to boost research, drug discovery and precision diagnostics.
Synendos Therapeutics | Andrea Chicca | University of Bern
Developing drugs to treat post-traumatic stress disorder and other neuropsychiatric disorders by modulating a new target. Restores natural brain functioning by inhibiting endocannabinoid transport across cell membranes. An effective, breakthrough therapy.
TOLREMO Therapeutics AG | Stefanie Flückiger-Mangual |tolremo.com | ETH Zurich
Cancer drugs often lose their effectiveness over time, which makes tumors that require continuing treatment difficult to manage. TOLREMO's new molecules eradicate drug resistant cancer cells at the start of a therapy, and can be combined with existing drugs.
Developed an injectable scaffolding that helps the body to rebuild after surgery. Enables the natural reconstruction of soft tissues, as well as glandular, connective and supporting tissues. First product will serve women's reconstructive therapy after a mastectomy.